Take your dad out for Father's Day!
Posted by Intern Bounce on Jun 12, 2018 in Uncategorized | 0 comments
The Need for Speed
Let your entire family experience the thrills and glory of Super Mario Kart at K1 Speed.  In North Austin, this unique go kart experience is indoors.  That's good for Dad – and the whole family – because it'll be easy, comfortable and cool during the scorching June temperatures.  The electric go karts mean it's quiet and the air isn't filled with exhaust.  Families can rent the cars to speed around the track with one another at around 40 miles per hour.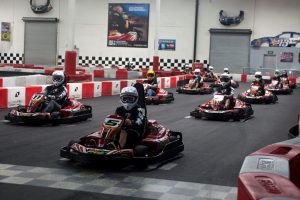 Photo by K1 Speed
A Sport Experience Unlike any Other
Roller Derby is the sport you aren't paying attention to, but should be.  When you buy Dad a ticket to a bout (that's what they call games) at the Parmer Events Center, he's not going to forget it.  Strong, powerful women strap on roller skates and beat the hell out of each other.  And while they don't wear uniforms, their outfits will help Dad stay interested while he picks up on the rules.  There's a game the day before Father's Day, but you can also buy him tickets with the promise of spending some one-on-one time together.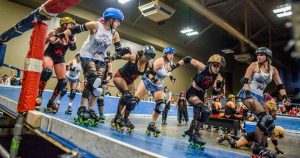 Photo by Rolling Stone
Top Golf
Top Golf takes a day at the driving range and makes it high-tech with computerized targets that make competition easy.  You don't need to be under the glare of the sun and dealing with the heat of the day – the bays are actually climate controlled.  Plus you can eat and drink booze there.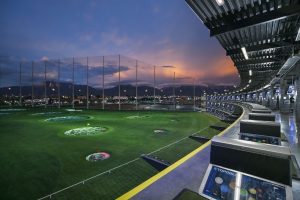 Photo by Top Golf
Hit the Water
Lake Travis is perfect for Dad. Start your plan for an unforgettable Father's Day by renting a boat.   It's not that difficult to do.  Once you load the family up, you have a lot of choices for what you do next.  Use an inner tube and drag family members behind you. Bring the tackle box and fish.  Or bring the booze and enjoy sunning and swimming (But make sure the boat operator is sober, drunk boating is a serious crime).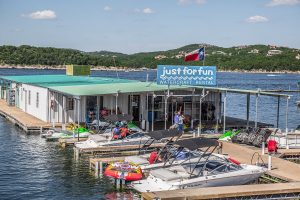 Photo by Rental Boat Austin
Brewery Tour
Austin's new Brewery District is ideal for a beer chugging Dad.  Help your dad broaden his horizons (not just Bud Light) and experience all that beer can offer.  From IPAs to Pale Ales, you can experience it all.  You can hit up several different breweries along Metric Avenue in North Austin.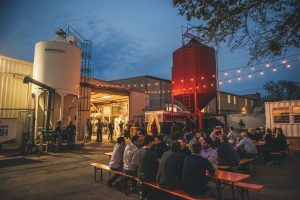 Photo by Austin Towers
BBQ Road Trip
What Texan dad wouldn't want to gorge himself on a wide variety of smoked beef, pork and chicken?  But instead of just hitting up one place, customize your day with several stops at different BBQ joints.  Compare and contrast brisket and sausages and find out which restaurant in your area truly does it best.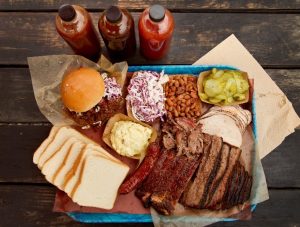 Photo by Austin American Statesman
Dog-loving Dad
Let's face it- with all the kids out of the house, your Dad has gotten a lot closer to his dog.  Now he doesn't have to leave him behind on Father's Day.  Head to Yard Bar for the perfect combination of puppies and alcohol.  At Yard Bar, you can bring your vaccinated dogs and have them run around and play with other dogs while you sit back and enjoy drinks.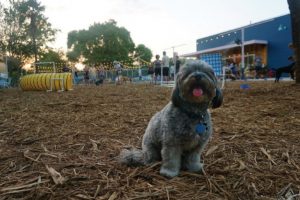 Photo by Kennedy Creative Events
Take Me out to the Ballgame
Austin may not have a Major League Baseball team, but that doesn't mean sports loving Father's need to be deprived.  A trip to the Dell Diamond in Round Rock to watch the Express play can give you all the fun of an MLB game – live sports, the excitement of a crowd, beer, popcorn and hot dogs.  You can't go wrong.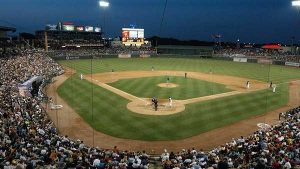 Photo by Austin Relocation Guide
The Shooting Range
Fathers will get the chance to impart their wisdom about gun safety and let off some steam with a visit to Red's Guns. Again, Father's Day is in June, so a major selling point here is the indoor 100 yard indoor range.  They offer moveable targets and reasonable fees.

Photo by Red's Guns
Brunch Worthy of Dad
Sunday brunch at Banger's on Rainey Street is nothing like the brunch you take your mom to for Mother's Day.  First, start the day off right with their "Manmosa."  It's a huge glass mug filled with an entire bottle of champagne.  They can only serve one per customer, and they're pretty serious about that, but one is really all you need.  And when it comes to the food – they've got some serious skills.  Banger's also regularly has live music to go along with your sausage.
Photo by Food & Wine Magazine
We can't help but suggest bringing your dad out to the Fun Stop 5k- it's the ultimate Austin event in June where you can hang with dad while having tons of fun and getting your drink on – it's the most fun you'll ever have on a 5k with dad! Get tickets here!