Calling all bachelors and bachelorettes!
Posted by Aracely Gonzalez on May 19, 2018 in Uncategorized | 2 comments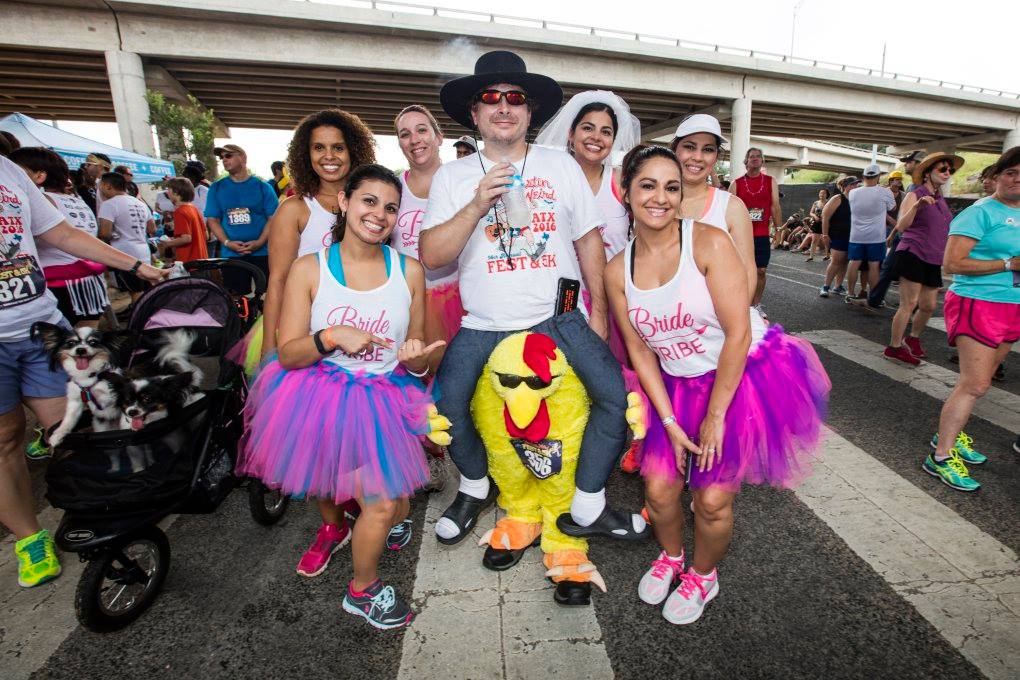 Austin is one of the top places for bachelorette and bachelor parties. The music, the drinks, the dancing- you can find something for all kinds of brides and grooms and it's no wonder Austin delivers on every front for an unforgettable night out to celebrate before tying the knot.  But, like every bride (and some grooms) they like to make their parties stand out by being extra memorable so why not bring your closest friends and family to the Fun Stop 5K?
We've got the top 10 reasons why you should:
Be Different.  Since you are probably one of 10 other friends getting married this year, you need to set your event apart.  Everyone else will go bar hopping or maybe to a strip club.  That's standard and boring. You don't want to be typical.  The Fun Stop and 5k is anything but run of the mill. 
Dress up.  Dressing up is always fun! Bachelorette and bachelor parties already have a knack for this so add an extra element of creativity by getting everyone to run the slowest 5K on the planet. Skip the matching t-shirts, sashes and silly veils –  you want to go really big and out of this world.  What about a bridal party of dinosaurs?  Or supermen-themed groomsmen or pioneer women bridesmaids.  You'd want to get the whole wedding party to wear the most outlandish thing you can think of – because of the costume contest.  Winners get free Amy's Ice Cream for a year.                                                                                                                  
Co-Ed.  If you and your future forever partner wanted to try a joint send-off into your linkage, the Fun Stop 5K is the perfect place. It gives you the opportunity to bring friends and family together before the big day. And, since this is an early event, you can split off into your respective groups into the night. After all, you're in Austin, TX!                       
Drink up.  No stag party is complete without a few cocktails.  The Fun Stop 5k is the ONLY 5k in downtown Austin that not just lets you have booze – they actively encourage it. There are also several boozy stops along the 5k route.                                   
Activities!  At a normal party the only activity is betting on who will be the first to slip and fall because of their impossibly high heel.  But here – you've got a Super Fun Foam Pit, the ClifBar Slip'N Slide and an obstacle/American Ninja Warrior Course.  And that's just the beginning. 
New Friends!  Strangers become friends at an event like this. You may even meet some new people you like so much you'll end up having to figure out a way to squeeze in a few more seats at your venue.                                                                                             
Chow down.  No one wants to sit at one of those enormous tables at a restaurant where everyone talks over each other and no one can even hear one another.  Add onto that the headaches of everyone having their own dietary restrictions – and then splitting the bill at the end?  You can skip all that mess at the Fest because there is a pile of food trucks for party-goers to choose from – so everyone can get what they want.                                            
Animals!  They're not part of your standard bachelor and bachelorette party but cuddling up to animals makes everything better. The Fun Stop 5k and Fest has a puppy kissing booth.  Or if you don't want a face full of Fido's saliva – you can get up close and personal with Texas's state animal at the armadillo booth.  Those are some Insta worthy pictures that will surely set your party apart.
Rock out.  We're in Austin after all – it's the live music capital of the world.  Take your party over the top by checking out the several live performances going on throughout the day. 
Staging.  The Fun Stop 5k and Fest is ideally located in one of the hottest parts of town.  After night falls and the event ends, you're in a perfect location to get to the next stop for your party.  Just zip across Lady Bird Lake to keep your party going downtown. 
So, if you want to be different, be memorable and have the bridal party have the most fun bachelor and bachelorette parties they've ever been to – register for the Fun Stop 5k and Fest June 23rd and get group pricing!