Break Out of Your Workweek Routine By Being Awesome
Posted by Aracely Gonzalez on Mar 16, 2018 in Uncategorized | 0 comments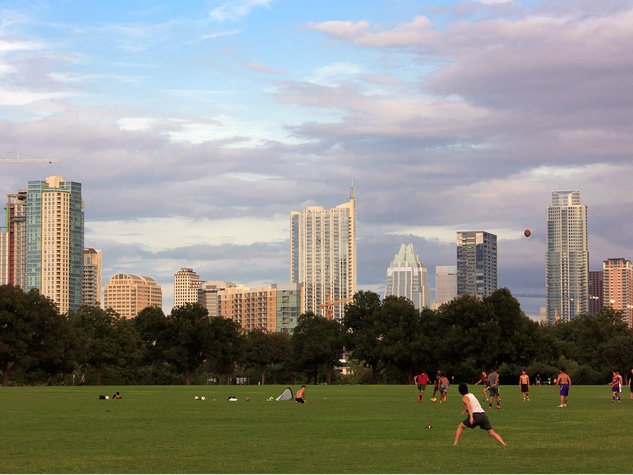 After spending an hour getting to work, slogging behind a computer for nine hours, then dealing with another bumper-to-bumper commute home on Mopac, followed by making dinner and doing chores, it can be hard to motivate yourself to get off the couch on a week night.
But life isn't for watching TV, it's for living.
Inspired by the Fun Stop 5k and Fest (which helps you break out of the common 5k routine), here are some ways to break out of the work week routine.
Put on Your Red Shoes and Dance.
Photo by Dance Austin Studio
Nothing will help you shake off the routine like learning how to really move, instead of that arhythmic swaying and off-beat clapping most do on the dance floor.   Austin Dance Studio is one of several places in town where you can learn hip-hop dance moves, ballet and more.  An added benefit is you can get your workout in, without standing on the treadmill staring at the clock waiting for it to be over.
Go Ahead and Jump.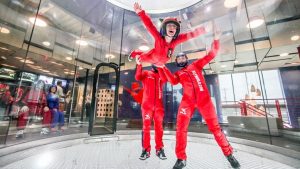 Photo by iFly Austin
Real skydiving takes the better part of a day and you could never squeeze it in on a Tuesday.  iFly Austin, on the other hand, gives you a similar thrill without all the terror and headache of jumping out of an airplane.  You just suit up, take a quick lesson and hop in a high-powered wind tunnel where you can practice twirling and flipping around – and still make it home in time for dinner.
Swinger, baby.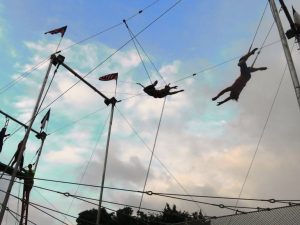 Photo by Trapeze Austin
Join the circus – for an hour a week – by learning how to trapeze. Trapeze Texas offers classes to have you swinging along and soaring through the air.  And believe it or not, it's not as hard as you think.  Don't worry, it's really safe.  You're hooked up to supports and there is a nice net to catch you if you fall.
Indoor adventures.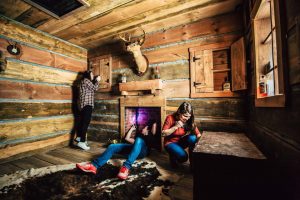 Photo by The Escape Game Austin
Austin has no shortage of puzzle rooms or adventure rooms.  You and several of your closest friends get locked into a mystery – by literally getting locked into a room.  Normally they feature puzzles, hints and riddles that lead you to figuring out how to escape.  It challenges your brain – and your patience – in the best way possible.  The rooms come in all sorts of themes – from Harry Potter to horror.
Embrace your inner Katniss.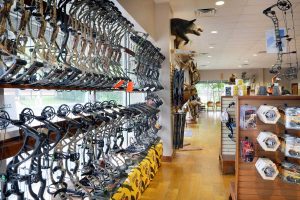 Photo by Archery Country Austin
Archery Country is one of a handful of places you can take lessons with a bow and arrow.  While other people have gardening as a hobby, at the end of your lessons, you'll know how to defend your home like kings did their castles hundreds of years ago.  Or if lessons are too formal for you, you can always just go to the range and fire off arrows for 20 bucks an hour.
Surfs Up!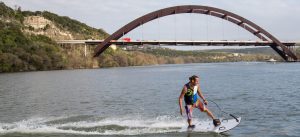 Photo by JetSurf ATX
All your friends are doing paddle boarding, but you're a bit more extreme.  Try out JetSurf.  It lets Central Texans hang 10 in our wave-free lakes and rivers. The motorized surfboard will have you zipping around Lake Travis and Lady Bird Lake, with the added benefit of boosting your core.
Kiss my Axe!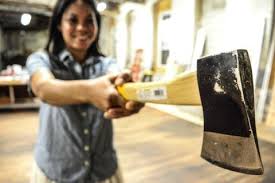 Photo by Urban Axes
If you're already wearing flannel and have a beard, you may as well complete the lumberjack look by learning to chuck an axe.  Urban Axes will set you up with learning how to throw axes at targets you're imaging are your ex's head.
Bon Appétit!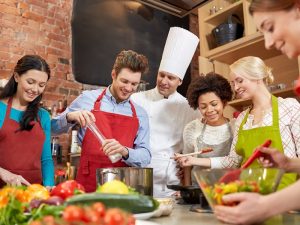 Photo by Eden Walks
Central Market and Whole Foods are among the many places offering up classes that can make you forget about nightly takeout.  Cooking at home isn't just cheaper, it is also much easier to customize to your specific tastes.
¿Hablas Español?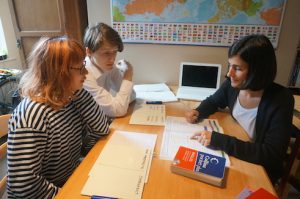 Photo by Vamosdidsbury
Central Texas has a large Spanish-speaking population, why not join them?  Austin Community College offers continuing education classes you can fit into your busy life.  Or if you've always been dreaming of a month-long getaway to Italy, take the lessons so you can spend your time enjoying the trip instead of sweating over the language barrier.
Yes, And?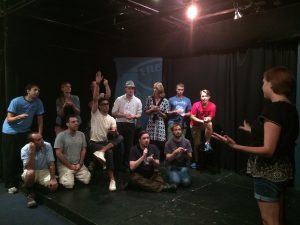 Photo by The Hideout Theatre
Improv classes aren't just for people who want to be performers.  It can help you think on your toes and roll with the punches.  It'll also make your confidence soar. That means your next big presentation at work is a breeze instead of an anxiety-inducing ordeal.  Plus, funny is sexy, so it can be the kick your lackluster love life needs.
Doing any of these things will make you a more interesting, well-rounded person. And, since we unfortunately can't host the Fun Stop 5K every day, we hope these ideas help to throw off the shackles of the day-to-day drudgery and revamp your work week routine.
Check out our home page for more information on the event and the experience (https://funstop5k.com)!